SICUBE
Regular price
$7,999.00
Sale price
$7,699.00
Unit price
per
Sale
Sold out
SM12-Pro Professional High Power 4K UV Projector, High Resolution UV Projector for 4K Resin 3D Printers
This high power 3D printed UV projector for 4K resin 3D printing with the SM12-Pro is dedicated for 4K UV light Curing.
SM12-Pro is a high-power UV LED projector that produces high quality,powerful and stable 4K 3D prints. The SM12-Pro features high-tech 4K UV LED technology and advanced optical performance, which enables users to achieve great definition and smooth surface finish in UV lithography. The difference between SM12 and Sm12-pro is the light intensity and better industry design.
Excellent Optical Performance:

The SM12-Pro High Power 7w LED 4K UV Projector offers excellent optical performance with high brightness, excellent resolution and a variety of other features to make your 4K 3D printing experience even better.

Easy Installation:

No need for lengthy instruction manuals just to tell you how to install the projector. The steps are super simple, you'll have the machine up and running in minutes when HDMI connected with PC.

Best for scientific industrial work environment:

The SM12-Pro is equipped with a high performance, high quality lens ,TIR prism,mirror and other optical components to ensure that the images projected are crisp and crystal clear.
Specs:
High Resolution: 3840 x 2160 (XPR)

DLP660TE UHD DMD 

Contrast:1200:1

Uniformity:>92%

LED Wavelength: 405nm/385nm

Light power: 7W(light-out)@405nm

Size:L336*W210*H204mm

Power Supply:AC110V-240V,50/60HZ,DC24V/7A

Video Interface: HDMI

Configuration light engine system, including UV LED module, main board, thermal solution

Control interface: USB/RS232

Software Download: https://www.si-cube.com/html/support-list.html

Optional projector lenses
 Optional Lens: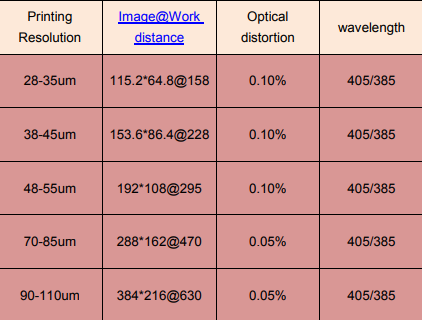 Share
View full details